Deals with Gold: Far Cry 4 voor een erg mooie prijs!
Tommy Paijmans | Wednesday 27 Jan 2016, 17:57
Mooie triple A games in de Deals with Gold deze week.
Na twee relatief matige Deals with Gold te hebben gehad, krijgen we deze week weer mooie kortingen op zeer interessante titels. Grand Theft Auto V en Rise of the Tomb Raider zijn zeker niet de minste, maar één steekt er toch met kop en schouders boven uit. Met een korting van maar liefst 60% is Far Cry 4 mee te nemen voor een schamele € 12,00, dat is deze game meer dan waard en werd in onze review zelfs beloond met een 9. Xbox 360 gamers kunnen tevens de voorgaande Far Cry delen tegen hoge kortingen aanschaffen.
De Deals with Gold van deze week is beschikbaar tot en met 1 februari. Bekijk hieronder de volledige lijst:
Xbox One
Assassin's Creed Syndicate – Large Helix Pack - Add-On - 40%
Assassin's Creed Syndicate – Medium Helix Pack - Add-On - 25%
Assassin's Creed Syndicate – X-Large Helix Pack - Add-On - 50%
DEAD OR ALIVE 5 Last Round New Costume Pass - Add-On - 40% / 40%
DEAD OR ALIVE 5 Last Round Story Mode - Add-On - 40% / 40%
DOA5LR: Core Fighters 30 Character Set - Add-On - 40% / 40%
Far Cry 4 - Xbox One Game - 60%
Far Cry 4 Gold Edition - Xbox One Game - 67%
Grand Theft Auto V - Xbox One Game - 33%
Grand Theft Auto V & Great White Shark Cash Card - Xbox One Game - 40%
Grand Theft Auto V & Megalodon Shark Cash Card Bundle - Xbox One Game - 50%
Grand Theft Auto V & Whale Shark Cash Card Bundle - Xbox One Game - 45%
Limited Time Only! DOA5LR Starter Set + Characters - Add-On - 45% / 45%
Rise of the Tomb Raider Deluxe - Xbox One Game - 10% / 10%
Rise of the Tomb Raider - Xbox One Game - 10% / 10%
Tachyon Project - Xbox One Game - 50%
The Crew Wild Run Edition - Xbox One Game - 25%
Xbox 360
Far Cry 2 - Games On Demand - 75%
Far Cry 3 - Games On Demand - 67%
Far Cry 3 Blood Dragon - Games On Demand - 75%
Far Cry 3: Deluxe Bundle DLC - Add-On - 33%
Far Cry 4 - Games On Demand - 60%
Far Cry Classic – Arcade - 67%
Far Cry Instincts Predator – Arcade - 75%
Grand Theft Auto IV - Games On Demand - 75%
Grand Theft Auto V - Games On Demand - 58%
Grand Theft Auto: San Andreas - Games On Demand - 67%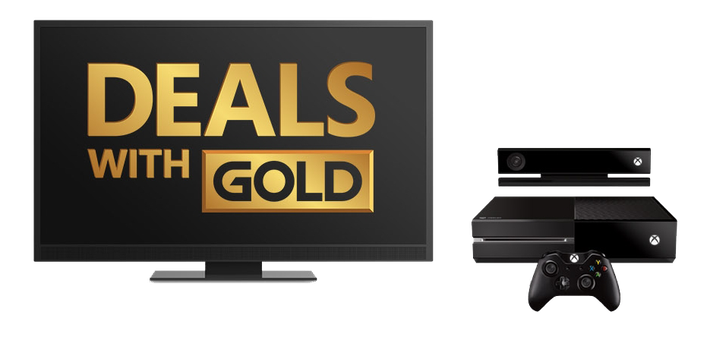 Bron: Major Nelson