Ubisoft peilt meningen over nieuwe Far Cry
Peter Paardekooper | Monday 5 Jan 2015, 14:19
De gamegigant wil weten waar wij naartoe willen in de nieuwe Far Cry-game.
Ubisoft heeft een aantal gamers gevraagd naar hun mening over waar de nieuwe Far Cry zich af zou moeten gaan spelen. Een paar Far Cry 4 spelers kregen van Ubi een enquete opgestuurd, en een van de vragen en bijbehorende antwoorden luidden als volgt:
"Please select your 3 most preferred settings for a future Far Cry game."
A Far Cry game in remote Alaska about surviving extreme wilderness
A Far Cry game in a futuristic, sci-fi setting on another planet
A Far Cry game set in the Vietnam war during the 1960s
A Far Cry game set in the cocaine trafficking jungles of Peru
A Far Cry game where you can fight against or join vampires
A Far Cry game in the Spaghetti Western style set in the 19th century Americas
A Far Cry game that is set during a zombie outbreak
Blood Dragon 2: A sequel to Blood Dragon
A Far Cry game set in a Mad Max-style post-apocalyptic world
A Far Cry game in the present day on a Jurassic Park style island of dinosaurs
A Far Cry game based on the world of Shangri-La from Far Cry 4
Ubisoft heeft dit truukje al eerder uitgehaald, onder andere met Assassin's Creed Revelations (die een jaar later ook echt de gevraagde functies zou bevatten), en de vraag waar toekomstige Assassin's Creeds zich af zouden moeten spelen (waar de Amerikaanse Revolutie en Victoriaans Londen populaire antwoorden waren).
Wat zie jij het liefst als setting voor Far Cry 5?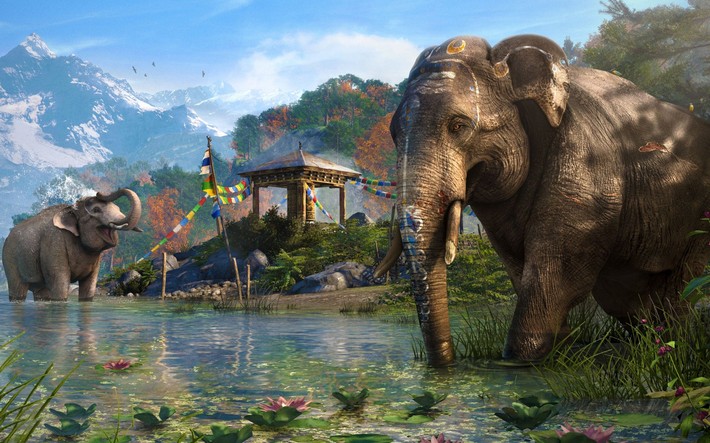 Bron: Eurogamer