Casper Egas | Friday 19 Apr 2019, 12:15
Wat is nu de ideale plek om Elsweyr, het nieuwste deel van de Elder Scrolls Online-serie, aan een aantal mensen te tonen? Juist, Elfia (voorheen Elf Fantasy Fair)!
Op zaterdag 13 april ging ik voor Xboxworld met mijn vriendin Meike naar Elfia om een indruk te krijgen van het evenement, maar vooral om de stand van Bethesda te bekijken en om Richard Lambert van ZeniMax te spreken.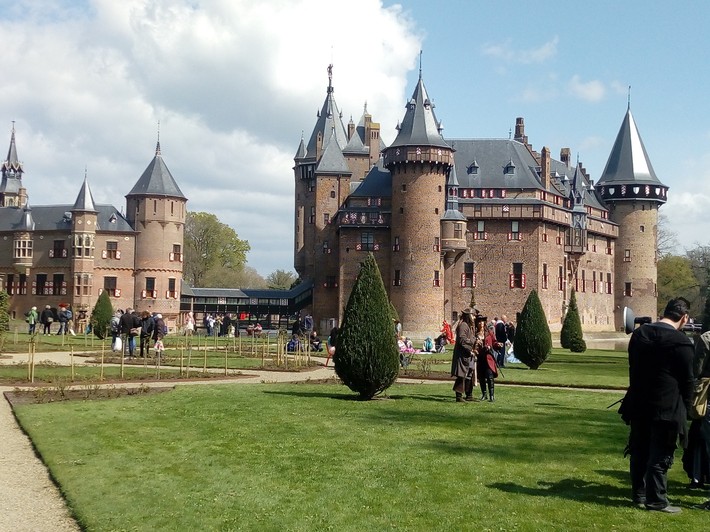 INTERVIEW
Elfia, dat vroeger bekend stond als de Elf Fantasy Fair, is een groot evenement bij Kasteel de Haar dat elk jaar een enorm aantal bezoekers trekt. Op Elfia kun je als cosplayer helemaal losgaan en tig dingen kopen bij het enorme aantal stands. Denk hierbij aan bijzondere kleding, bordspellen, eten en allerlei aanverwante artikelen. Ook zijn er wat activiteiten, zoals dansen en boogschieten en kun je naar voorstellingen kijken. Vroeger zat ik nog wat meer in die scene, omdat ik jarenlang enthousiast Dungeons & Dragons speelde. Nu deed het mij allemaal niet zo veel meer. Meike en ik gingen er ook niet echt in op en liepen maar wat rond te struinen. Ik vind het leuk dat mensen de gelegenheid hebben zich echt te uiten door zich te verkleden. Sommige outfits waren echt prachtig. Jammer genoeg was het vrij koud en werd het zonnetje op den duur vervangen door wat regen en sneeuw. Het gevolg was dat alle 'elfen' in erg zomerse jurkjes vooral zaten te bibberen.
Voor het eerst was Bethesda aanwezig op Elfia met een vrij grote stand. Op deze stand werd allerlei Elder Scrolls Merchandise en speciale (dure) cakejes verkocht. Ook kon je op laptops aan de slag met het nieuwe spel The Elder Scrolls Online Elsweyr dat in juni van dit jaar uitkomt. We konden het prima spelen, want het publiek was duidelijk niet echt gekomen voor videogames. Het spel ziet er mooi uit en was eenvoudig te spelen. De woestijnachtige omgeving ziet er tof uit en ook de kleine binnenlocaties die we gezien hebben zijn mooi vormgegeven. Het spel speelde echter niet bijzonder. Persoonlijk ben ik nooit een fan geweest van The Elder Scrolls Online, terwijl ik de reguliere Elder Scrolls games wel heel gaaf vind. We liepen maar wat rond (net als in Elfia) en hakten wat monsters neer (niet zoals in Elfia). De quests hadden niet veel om handen en de personages die we spraken zagen er wat gedateerd uit.
We hadden de mogelijkheid om de creative director van The Elder Scrolls Online uitgebreid te spreken en eens kritisch te ondervragen over de nieuwe uitbreiding Elsweyr. Richard Lambert is een open en sympathieke man en was niet bang om eerlijke antwoorden te geven. Het interview is in het Engels afgenomen in drukke omstandigheden, waardoor enige formuleringsverschillen mogelijk zijn.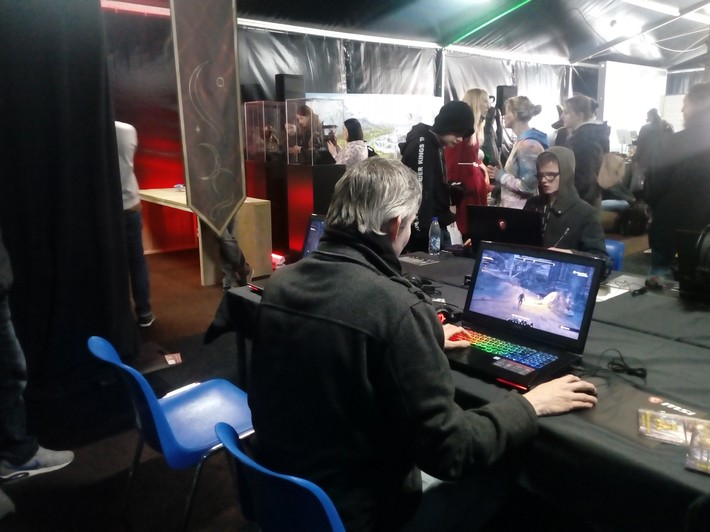 Interview met de Creative Director van The Elder Scrolls Online, Richard Lambert
XBW: What do you do in your position as Creative Director of The Elder Scrolls Online?
RL: "I am responsible for the whole process, I work with all the teams. I have the vision of the game and ensure that we are on the same path. I am responsible for the general questlines and content too."
How long have you worked on The Elder Scrolls Series?
RL: "Fourteen years in total; twelve years on the Elder Scrolls Online series. The first two years were spent at Bethesda Game Studios working on Oblivion."
Were you already a fan of the series before you worked on it? And if you were, how did you get into the series?
RL: "I have played the Elder Scrolls games since Daggerfall. My enthusiasm for that game was the reason I applied for a position at Bethesda and I got the job as a producer on Oblivion."
What will be new in The Elder Scrolls Online Elsweyr?
RL: "There is a whole new story that is thirty hours in length. This adventure is set in the new province of Elsweyr, home of the Khajiit. For the first time the focus is on culture and dragons. There is a whole new class of necromancer in the game. That is because necromancy plays a big part in the Elder Scrolls universe."
Will the game take advantage of the Xbox One X, and if so, in what ways?
RL: "Yes, the game is in full native 4K and has a better draw distance and a significant decrease of loading times."
Will the game still be optimised for the Xbox One S, or is that not the preferred way to play?
RL: "We strive to make the game play well on as many systems as possible. So you will get full experience on the Xbox One S. Currently there are some problems with the frame rate on all versions of the game."
At what group of players is the game targeted? Primarily towards existing players of other Elder Scrolls Online games, or new players?
RL: "Compared to other online games we have a special system in place that allows people of high level and beginners to play together without any problem. The game is targeted towards everybody [smiles], but we see that Elder Scrolls fans are most interested in our games. The games are interesting for everyone because there multiple ways to play, which interest people looking for different things."
I am a long time Elder Scrolls fan and played the games since Elder Scrolls Arena. Yet I really couldn't get in to The Elder Scrolls Online, and I only played the first part. I like it that the TES Online series shows all kinds of regions in Tamriel I know from Arena in more detail. That is an aspect that pulls me towards the games, but the emersion breaking online play pushes me away. When I am accepting a quest and I am told that I am their last hope, but a whole host of other players behind me are waiting to play the same quest, it just feels so jarring. I heard that more TES fans experience the same thing.
Is this a problem for you or is it OK that the Online subseries interests totally different people?
RL: "I have heard that before. But it is up to you how you want to play the game and different people like different elements in our games."
What have you done more to improve immersion in Elsweyr and other recent TES Online games?
RL: "It helps to go to areas that have been in the games longer, because there will be less players there. If you go to a new area, there will always be more players there."
Wouldn't it be more fun to make a more story driven game, that is more like Skyrim in which you play with other players cooperatively? I believe there would be a market for such a game.
RL: "These elements were in the first Elder Scrolls Online game at launch, but a lot of players were not enthusiastic about those quests because they would get separated. When one player would continue when others were offline, they wouldn't be in the same layer in the game anymore. So we got rid of all those quests."
What are the challenges of making the story interesting in an MMO? I recently played The Division 2 and problems would arise when one player in my party would talk to a character and a mission would suddenly end, without me ever seeing the character at all, making the story hard to follow.
RL: "There are large groups of players, so we have to account for what these players want and do. The stories are tied to the player in our game, so every user has to speak to certain characters and perform certain actions. So you will not get the same problem that you had in The Division 2"
How much interaction is there between ZeniMax and the developers at Bethesda Game Studios of the mainline Elder Scrolls series?
RL: "We have a very good relationship with Bethesda Game Studios. For Elsweyr we spoke a lot about the dragons, so that they make sense in the lore of Elder Scrolls. We started out using some of their assets as well, but we had to adapt them a lot, because the scale in our games is larger. We have to rebuild those assets, but we try to stay true to the artistic feeling of the originals. We also use lore from the older Elder Scrolls games. For example there is a lot taken from lore books in older games like Arena and Morrowind. Some of the books in Arena have been made into entire questlines in Elsweyr. Also we build our Morrowind expansion on existing lore, but the game is set one thousand years earlier, so it all had to make sense and we had to talk to Bethesda about that."
Are there still people working at ZeniMax and Bethesda Game Studios from the time when the old games were made?
RL: "The team at Bethesda Game Studios is still largely the same since the earlier Elder Scrolls games. Todd Howard is still the producer of the series since Arena and a lot of staff were already there when they worked on Morrowind. A lot of the staff also moved to ZeniMax Studios when we started the Elder Scrolls Online franchise."
Will the Elder Scrolls Online series go on with more expansions, seeing as there are far more provinces in Tamriel, or will there be totally new game concepts coming from ZeniMax?
RL: "We have four large updates each year, so we keep ourselves busy. There are still lots of places we can go, but if we ever run out, we still have the Oblivion realm, which is nearly infinite. So future games will probably be a continuation of the series. The Elder Scrolls Online is still very popular, so there is now reason to change the concept."
I really hope that there will be versions of Arena and Daggerfall ported to consoles sometime in the future, now that retro gaming and remastering old games is so popular. Is there a realistic chance of that happing?
RL: "No idea, that is in the hands of Bethesda Game Studios."
Thank you for your time.